Hong Kong Monetary Authority Unveils Fintech Promotion Roadmap
By Jay Lee and Beatrice Wun
In a transformative step for the financial technology (fintech) industry, the Hong Kong Monetary Authority (HKMA) recently announced a new Fintech Promotion Roadmap (Roadmap), which outlines its key initiatives to be taken over the next 12 months to expedite the growth of the Fintech ecosystem and give stronger impetus to fintech adoption in the Hong Kong financial services sector.
The Roadmap displays a collective recognition by the three main banking and financial services regulators, the HKMA, the Securities and Futures Commission, and the Insurance Authority, of the transformative power of fintech, and it is designed to serve as a bridge to more concerted industry collaboration among the relevant industry participants.
The Roadmap emphasizes five fintech focus areas, which consist of (i) the three fintech verticals of wealth and investment related fintech (wealthtech), insurance fintech (insurtech) and green and environment fintech (greentech), and (ii) the two technology outlays of artificial intelligence (AI) and distributed ledger technology (DLT).
It recognizes their potential to revamp the financial services industry by offering enhanced efficiency and transparency. Notably, the emergence of generative AI technology may streamline and customize a wide range of existing processes (with potential use applications as investment plan selections, compiling financial reports, tailoring recommendations, etc.), while DLT can be utilized to enhance payment efficiencies, remittances, securities issuances, and settlement through disintermediation.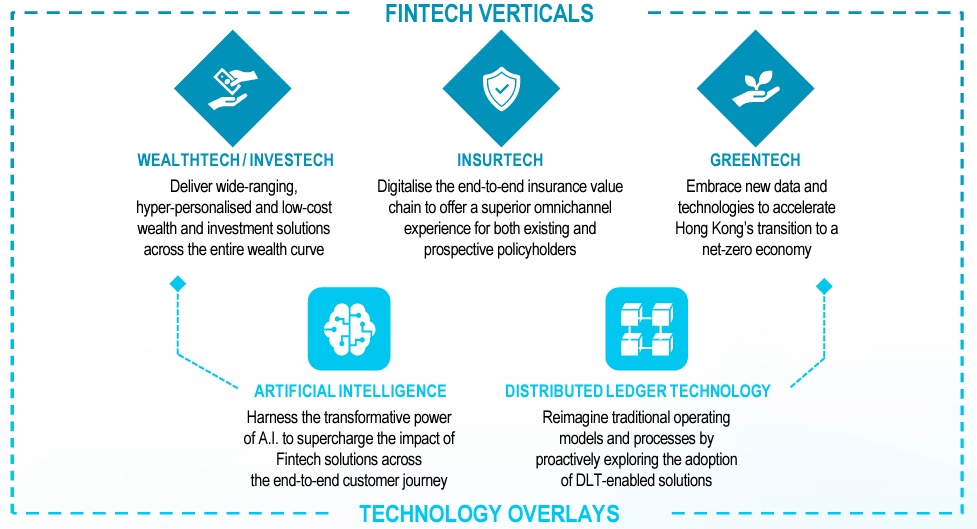 Prior to the Roadmap, key initiatives that were used to promote Fintech included supervisory sandboxes for Fintech innovators, ongoing dialogue with regulators and industry participants, and the introduction of Fintech facilitation teams. The Roadmap aims to expand these initiatives beyond mere awareness-raising and experimentation and to take a more collaborative and organized approach to promote Fintech in Hong Kong.
To that end, the Roadmap introduces new initiatives such as (i) a Fintech knowledge hub as a centralized platform for information and source-sharing, (ii) Fintech showcase events, including roundtable discussions and conferences for meaningful discourse, (iii) interactive webinars and seminars for Fintech knowledge exchange, and (iv) a Fintech adoption journey video series featuring use case and sharing videos.
Through the Roadmap, the HKMA intends to encourage Hong Kong financial institutions to consider Fintech as means for resolving certain challenges of financial services and products.